Thank you! Our supporters have made the Committee for Cultural Policy (CCP) a premier resource for factual information on cultural property policy, providing public education and analysis on a range of heritage issues as its charitable mission. Donate now so this important work can continue!
The Committee for Cultural Policy believes art should be a positive conduit for international understanding. We advocate for the lawful collection, exhibition, and global circulation of artworks. We encourage cultural policies that preserve artifacts and archaeological sites through adequate funding for site protection and enabling safe harbor in international museums for objects from countries in crisis. We defend uncensored academic research and urge funding for museum development in source countries.
The Committee for Cultural Policy is a 501c3, non-partisan organization. We do not support candidates for public office or lean to one side of the aisle. We applaud free expression and are critical of cultural policy anywhere in the world when it serves the interests of dictatorship or censorship of ideas.
Our free website and e-newsletter, Cultural Property News, brings news and information on heritage to a diverse global audience. We are a true cultural policy think-tank, sponsoring public lectures by cultural policy experts and providing solid written analysis and testimony on cultural property initiatives, agreements, and legislation affecting museums, collectors, and the trade in art. Our detailed research lays the groundwork for developing positive cultural property policy and challenging ill-considered programs and legislation.
Working together with volunteer lawyers across the globe, we initiated and have just completed a major, multi-country comparative analysis of the implementation of cultural property laws in nine countries in order to guide the development of future cultural property policies and laws.
2019 CCP by the Numbers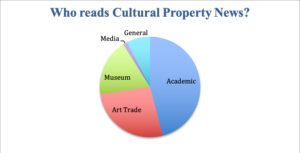 The Committee for Cultural Policy has significantly expanded both its public outreach and policy development. Our website, www.culturalpropertynews.org, now reaches over 9000 subscribers.
Since the launch of the new Cultural Property News website in 2018 we've added over 150 articles alerting our subscribers to developments in the cultural property world.
We deliver analyses of issues in US and international law and policy, articles on preservation, conservation, and museum policy, on the art market and and exhibitions, and the threats to culture and cultural heritage around the world. CCP strives to be a voice of reason in an otherwise reactionary cultural property environment.
Now 9,000+ current subscribers to Cultural Property News
Over 60 Cultural Property News articles published in 2019
Over 250 original articles now on the Cultural Property News website
Our most read stories have now garnered thousands of individual unique "reads." Older articles continue to provide key background to current events for classroom discussions and as grounding for coverage of news in other media.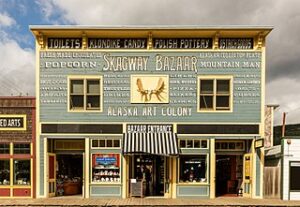 Skagway Bazaar, shop in Skagway Historic District, Alaska, United States. Photo by Diego Delso, license CC BY-SA.
CPN's 25 Most Read Articles
Mes Aynak: Corruption, Copper and a Nation's Heritage
A Culture Destroyed: China Expunges Uyghur Identity
New York District Attorney Goes After Art Collections
Savoy-Sarr Report on African Art Restitution: A Summary
Update: Up to 25% Tariffs on Chinese Art Will Expand China's Monopoly
Update: Art Trade Reacts to Threatened Bank Secrecy Act
Art Imports to EU Threatened by Draconian Regulation
BLM Failed to Comply with National Historic Preservation Act
Thailand Wants Major Statues Collected in 1960s Back from US Museums
EU Regulation Curtailing Import of Art & Antiquities Now Law
2019 STOP Act: Fixing a Flawed Indian Art Bill
Was ILLICID Report 'Buried' For Failing to Show Illegal Trade?
Chilkat Blanket Return: Myths, Legends and Facts
AAIA Challenges Private Ownership of Native American Art
Benin Dialog Group: Building and Filling a New Museum in Benin
UK to Change Treasure Act – New Restrictions Proposed
Yemen Claims Jewish Religious Artifacts
Rapa Nui Claims British Museum's Moai Sculpture
CPAC – Building A Wall Against Art
Is NAGPRA Irretrievably Broken?
Turkey's President Wants to Turn Hagia Sophia into a Mosque
UK Gov't Query: Is Ban on Warthog, Hippo, Walrus, Whale and Narwhal Necessary?
A Textile Collector Changes the World
"Plundered" Artifacts from Aged Missionary's Collection Go to Colombia
TrustLaw and the new Cultural Property Law Website
In January 2018 we began a major project with TrustLaw, a philanthropic arm of the Thomson Reuters Foundation. Its purpose was to generate independent, professionally produced, research papers on cultural property laws, their application and enforcement from volunteer law firms across the globe. Our final working group consisted of legal teams from the U.S., China, Nigeria, Peru, the United Kingdom, India, Turkey, Italy, and Bulgaria.
CCP coordinated and organized work by lawyers from the nine countries whose firms contributed to TrustLaw Project's research on cultural property laws, application and enforcement. The publications are part of CCP's Global Art and Heritage Law Series, series editor Kate Fitz Gibbon.
The Global Art and Heritage Law Series will be hosted on a new webpage, Cultural Property Law, culturalpropertylaw.org, linked to our Cultural Property News webpage. Each illustrated report will be available for free download.
CPAC review: Algeria, Morocco, Yemen, Chile, Jordan, Tunisia, and Turkey
The Committee for Cultural Policy delivered oral and written testimony on six requests for import restrictions on art and archaeological materials to the Cultural Property Advisory Committee (CPAC) at the State Department through the end of January 2020. The recent requests were for import restriction agreements on art from Morocco, Yemen, Chile, Jordan, Tunisia, and Turkey.
Virtually all requests for import restrictions made in the last ten years have failed to meet the four statutory determinations required under the Cultural Property Implementation Act, yet CPAC has recommended and the President's delegated decision-maker at the Department of State has ended up approving every one.  The 2019 and early 2020 requests from Algeria, Morocco, Yemen, Chile, Jordan, Tunisia, and Turkey also failed to provide adequate evidence to meet the statutory requirements of the law. A request from the Government of Costa Rica is also in the works.
Readers will note the preponderance of requests from countries in the Middle East, perhaps reflecting the announced plans of advocacy groups to effectively block Islamic and Middle Eastern art and artifacts altogether. This apparent goal omits the serious questions raised by Middle Eastern source countries claims to all Jewish community heirlooms and artifacts. Over the last few years CCP has been instrumental in researching the issue of seized artifacts of minority communities and has been a resource for the American Jewish community, working together to oppose over-reaching MOUs with MENA (Middle Eastern and North African) countries.
The Committee for Cultural Policy has also worked to bring out the facts about the oppression of Uyghur and Tibetan minorities in China. In our own American sphere, we have closely followed both Native American claims to heritage and the unprecedented expansion of returns under NAGPRA as well as the voluntary repatriation activities of the professional art dealer group, ATADA.
Algeria
The U.S. State Department signed a MOU and import restrictions with Algeria on August 15, 2019. CCP and GHA testified on the MOU in July 2018 and have written extensively on the issue of CPAC's disregard for the terms of the CPIA.
As Peter Tompa noted in his article in Cultural Property Observer and Cultural Property News, US State Department Imposes Embargo on Algerian Cultural Artifacts– Including Rope!," Once again, the designated list is extremely broad. In what has to be a first, import restrictions have even been imposed on rope!"
CCP and GHA testified in 2019 and in January 2020 on proposed MOU's for the following countries:
Jordan
See: Testimony to CPAC on Jordan's Application for Import Restrictions: CCP & GHA's Testimony to the Cultural Property Advisory Committee on the Proposed MOU Between the USA and Jordan
Chile
See: Chile's Application for Import Restrictions to CPAC – Testimony: CCP & GHA's Testimony to the Cultural Property Advisory Committee on the Proposed MOU Between the USA and Chile
Morocco

See: Jewish community issues urgent call on proposal to Block Yemeni and Moroccan heritage: The MOUs are based on a flawed premise – that Jewish cultural property constitutes the national heritage of Arab governments.
Yemen
See: CCP & GHA Testimony on Yemen's Request for Cultural Property Restrictions: Written Testimony Submitted to Cultural Property Advisory Committee, Department of State Proposed Agreement Between U.S. and Yemen
Yemen Claims Jewish Religious Artifacts: Tangled Interests With State Department: ICOM Emergency Red Lists May Serve Other Goals
Morocco
See: Morocco Seeks US Import Restrictions on Ancient & Ethnic Art: At CPAC Hearing, Both Time and Facts are Scarce
Tunisia
See: CCP & GHA Testify on Blockade on All Art from Tunisia – Access to Jewish and Berber Artifacts would be Denied Under Cultural Property Agreement with U.S.
Turkey
See: Turkish Request Alarms Armenians, Greeks, Turkish Jews, Orthodox and Syriac Christians in Diaspora – Blanket Import Controls Covering Prehistoric Period to 1923 Sought from Cultural Property Advisory Committee at State Department
Turkey Claims all Art and Artifacts: Centuries of Multicultural History and Trade Denied
CCP & GHA Testify: Failure to Justify U.S. Blockade on Turkish Art
We must often measure success by the harm we are able to prevent by educating legislators and the public. In 2019, we submitted testimony on the following legal issues:
HR 2514 "Coordinating Oversight, Upgrading and Innovating Technology, and Examiner Reform Act of 2019" or the "COUNTER Act of 2019".
Anti-money laundering provisions applying to dealers in 'antiquities' were added into a general bill modifying the Bank Secrecy Act that passed in the U.S. House of Representatives on October 22 and is now pending in the Senate. A provision in the bill, HR 2514, Section 213, would add 'persons trading or acting as an intermediary in the trade of antiquities, including an advisor, consultant or any other person who engages as a business in the solicitation of the sale of antiquities.' The banking, casino, bullion and fine jewelry businesses are already subject to FinCEN regulations. The bill does not define the 'antiquities." The introduction of this bill was the direct result of Antiquities Coalition lobbying, sponsoring of conferences in conjunction with the anti-money laundering compliance industry.
See: Bill Requiring Antiquities Dealers to Report Transactions Passes House – Expansion to All Art Trade Urged: Antiquities Coalition seeks addition of all art dealers to Senate bill imposing anti-money laundering regulations on trade
The STOP Act – S.2165 (H.R. 3846 in the House) Safeguard Tribal Objects of Patrimony Act
A third version of the Safeguard Tribal Objects of Patrimony (STOP) Act, was introduced on July 18, 2019. Sponsor Senator Martin Heinrich, who introduced a parallel Senate bill (S.2165), says the STOP Act will "prohibit the exporting of sacred Native American items and increase penalties for stealing and illegally trafficking tribal cultural patrimony."
What the STOP Act will actually do is to require all persons exporting or carrying out Native American art from the U.S. to obtain an export permit by submitting a photograph and a form through a federal system that will have to be created from scratch. To get an export permit, each item will be subject to tribal review covering the 568 federally registered tribes, plus Hawaiian organizations and Alaskan villages. The review system will operate in secret, and without any time limit. There is no dollar threshold for requiring an export permit.
Support the Committee for Cultural Policy and Cultural Property News!
Your generous contribution this year to the Committee for Cultural Policy is essential to enable us to bring the facts to the public.
Building networks is key.
Our goal is to build balanced, positive, and workable cultural policies that will preserve human heritage for all. Our successes are based on our direct engagement with tribal groups, religious communities, legal and academic specialists, trade representatives, legislators, museum directors and curators, environmentalists, and conservationists. It takes all of us working together to find solutions to an immediate problem and to make common cause to achieve a larger goal.
Your help is crucial to our continued quality work.
You can make a monthly or one-time tax-deductible contribution to the Committee for Cultural Policy, a 501(c)(3) organization, via PayPal on our website, www.culturalpropertynews.org, or send your check to Committee for Cultural Policy, Box 4881, Santa Fe, NM 87502.
DONATION INFORMATION
The Committee for Cultural Policy, Inc. is a 501(c)(3) organization. Your contribution is tax deductible to the extent allowed by law. No goods or services are provided in exchange for your donation.
For donations by Check to the Committee for Cultural Policy
Mail to PO Box 4881 , Santa Fe, NM 87502
For donations by Electronic Transfer, Please Contact us Directly at: [email protected]